"No Avocado Politics, please"
Opening Panel: "B & B" in a Nutshell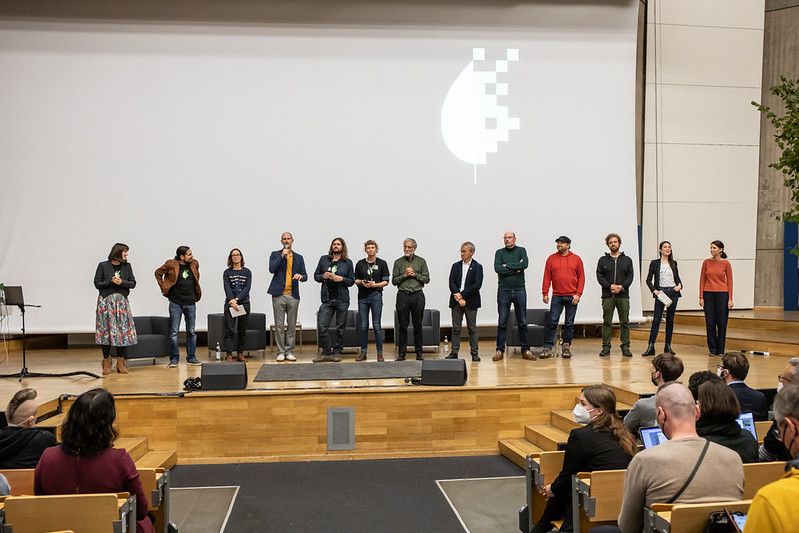 It is Friday Evening, the big Hall "ADA" is filled with people, about 450 people are waiting for the very first conference slot. Chacka - the second "Bits & Bäume" starts!
Dr. Lewis Akenji Managing Director of the Berlin-based "Hot or Cool Institute", gives the first word: Climate Change and lifestyle is a story of inequalities, he says. Which means for example, that the per capita Carbon footprint of only the Canadian mobility sector is as big as the whole Economy of China. For changing this inequalities, we have to change our habits on three levels: On the level of Mindware, Software and Hardware.
We don't want to have more "Avocado Politics" says Elisa Lindinger, Co-Founder of Berlin-based SUPERRR Lab, in the words of Nils Gilman. What does this mean? Avocados are dark green from outside, and inside mint colored. So it is another word for Greenwashing in Economy and Politics. The last B & B Conference in 2018 gave herself the slogan "another digitization is possible". This time, digitization is not more just possible- it is necessary, she says.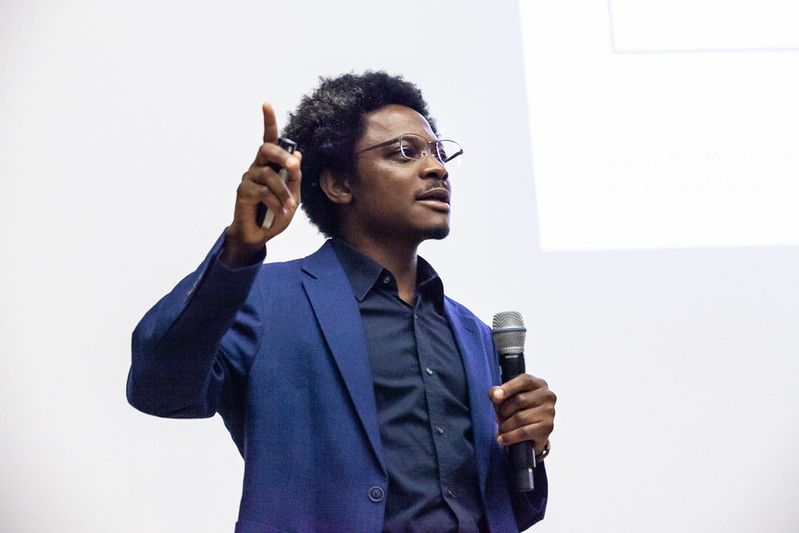 "We don't know yet what we have to gain"
There will be many more changes in our lives, Lindinger says: We have to reduce our consumption radically, we have to travel much less, and we don't know yet what we have to gain. That's why so many people are scared of the changes which are expecting us.
First of all, we have to change our priorities, says one of the co-organisators of the conference Hendrik Zimmermann to start the next discussion. Only the output of energy for digital advertising world wide produces more energy than the whole people of UK. The energy loss for digital products is enormous and the most visibly in data processing centers. Usually, they have to be cooled down, but they also could be used to heat big buildings.
The transformation is on the way
We have much left to do in this issue, says state secretary Dr. Franziska Brantner from the economy and ecology department. She likes to start with the eco- digital transformation in their own buildings.
Finally, the makers of the Conference present themselves at stage. "We are the ones who are making not only this conference. We rock the transformation of society", says Christoph Bald from Germanwatch. Meanwhile, they also transformed themselves At 2018, they came from two areas. Now, they say, "we inspired each other so deeply that we don't come from two directions any more". So, the change already begun.
Read also our Blog reports "Behind the Scenes" about "Self Organised Autonomous spaces", "We have to talk" on climate communication, an article on one of the big panels on Digital Colonialism "Global justice and digitization" and an invitation to some Conference Panels in English Language "Digital New World?".